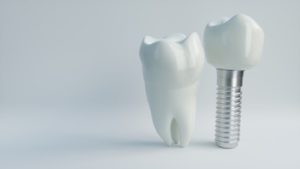 Millions of Americans suffer from missing teeth, and this number is only expected to grow. But fortunately, solutions like dental implants exist that are able to fully replace lost teeth in terms of look, feel, and functionality. These awesome little implants can change your life if you have missing teeth! And if you're curious about receiving them, your first step is a dental implant consultation with your dentist. Here's more about what you can expect during this appointment as you start your journey towards a new and improved smile.
1. Finding a Dentist & Meeting Their Team
It's important to select a dental implant expert who has thorough experience, advanced training, and sophisticated judgment. The American Academy of Implant Dentistry has an online directory to help you find an implant dentist if necessary. Once you've scheduled your consultation appointment, the first thing you can expect upon showing up is meeting the dentist and their team. They're the ones who will be supporting and guiding you throughout the implant process, so it's always nice to feel comfortable and familiar with them—this only ensures a better treatment process!
2. Preliminary Conversation
You'll have the chance to talk with your dentist about your smile goals, as well as your oral habits. They'll also review your medical history and any relevant records, impressions, and X-rays. All of this information is critical for helping your dentist determine your implant eligibility and the appropriate course of action. If you have any specific concerns or desires for your smile, now is the time to mention them; your dentist is there to help and having an honest and open forum will make things easier.
3. Oral Evaluation
Your dentist will have to perform a thorough oral evaluation, including 3D imaging or X-rays, to determine if your mouth can handle implants. Some patients can't immediately receive implants and must first receive a supplemental bone graft due to inadequate jawbone density. Other times, gum disease must be addressed. This examination also determines how many implants you'll need and where they'll need to go.
4. Treatment Plan Discussion
After your mouth's evaluation, your dentist will begin to review your treatment plan with you. They will cover things like:
Estimated timeline for the entire treatment process.
Number of required appointments and additional procedures.
Local anesthesia and sedation options.
Post-surgery expectations and instructions.
5. Wrapping Up
At the end of your consultation, you'll have the opportunity to ask your dentist and their team any final questions that you have about your treatment plan. Remember, as a patient you have the right to know exactly what your dentist is going to be doing, so speak up and address any concerns that you have! You can also ask your dentist to share before/after photos of previous patients who've received implants; dentists are often quite thrilled to show off their work, especially if it helps you feel more confident about treatment!
If you're curious about receiving dental implants to replace your missing teeth, don't hesitate to speak with your dentist about setting up a consultation.
About the Author
Dr. Asma Zuberi has proudly served patients and families in the Glenmont, NY area for several years. Dr. Zuberi received her dental doctorate from the University of Tennessee Health Science Center in Memphis and is a member of the American Dental Association, the New York State Dental Association, and the prestigious Academy of General Dentistry. Her practice is pleased to offer many available services including dental implants. To schedule a visit, please reach out online or over the phone: (518) 472-8064.